Theatre Royal Drury Lane Seating Plan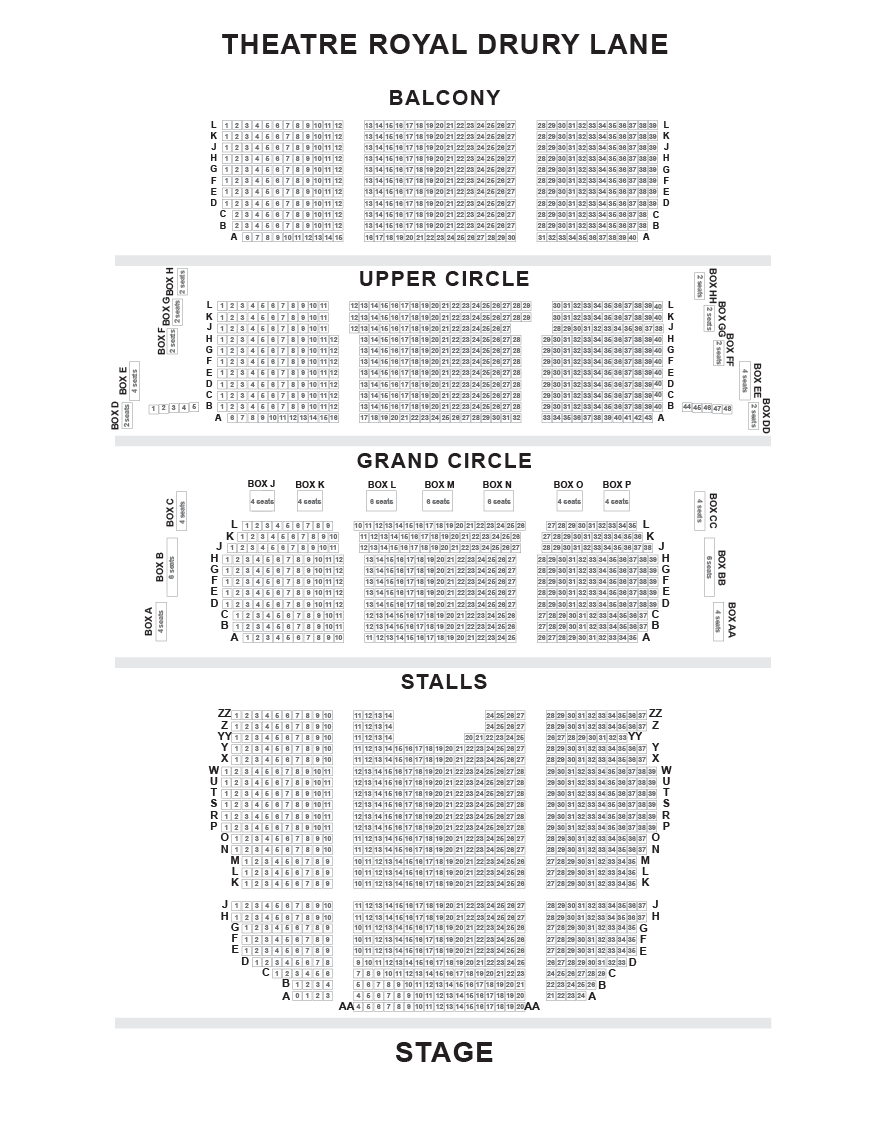 The theatre features a massive stage and a huge 2000-plus seating capacity over four levels: the stalls, grand circle, upper circle and balcony. The best seats in the house can be found in the front and middle sections of the stalls and the front few rows of the grand circle. The large auditorium means some areas can feel disconnected from the stage. Some seats have a very restricted view, so it's always best to check the views before buying your tickets.
The stalls
The Stalls are divided into a front and rear section by a wide aisle running the width of the auditorium. Each of these sections is subdivided into three, providing a wide, long profile. The best seats can be found at the front of the rear section around rows K-N, providing great views of the stage and excellent legroom. There's a moderate rake – AKA a slope - throughout the auditorium allowing for good views over the tops of audience members' heads. There are a number of pillars at the back of the stalls, around row Y, which can cause obstructions, plus an overhang created by the Grand Circle above.
The grand circle
Located one level up from the stalls, the grand circle offers brilliant views to the huge stage and some seats cost much less than the stalls. If you can manage to get a seat in the front few rows of this section, you will arguably have the best view in the house as the height enables you to see more of the stage at once. The grand circle is relatively low for a circle, providing almost eye contact-level views of the action. The boxes that surround this section offer varying quality views, but are excellent for special occasions since they have an exclusive feel.
The upper circle
The Upper Circle is set further back from the stage than the grand circle below and is also located higher up, meaning that you're a long way from the stage. However there are some good deals to be had on seats in this area and if you're prepared to sacrifice some connection with the stage it can be well worthwhile. The circle is divided into three blocks by aisles and the overhang from the balcony level above restricts the view for those sitting at the back of the upper circle.
The balcony
The highest level of seating is the balcony, not recommended for those with a fear of heights. Some seats offer restricted views or require you to lean forward to see the stage. However ticket prices for this level in the auditorium are very cheap indeed and if you're working to a tight budget, they can offer excellent value for money. Seats located at the very back of the balcony feel incredibly distant from the action on stage, but the views down to the stage are unobstructed.
Buy Tickets Online


From Official Tickets Agents